July has ended, and I can write my first Wrap Up.
July was overwhelming. There was a tonshit of work, and I had to crawl out of this reading slump. I still managed to read 11 Books, or well, rather 9 Books, because the last three are an indie series, that felt more like one book.
So let's jump in, shall we:
Angelfall
by Susan Ee
Find the book on goodreads or amazon
Rating: ✯✯✯✯✯
Summary: It's been six weeks since angels of the apocalypse descended to demolish the modern world. Street gangs rule the day while fear and superstition rule the night. When warrior angels fly away with a helpless little girl, her seventeen-year-old sister Penryn will do anything to get her back.
Anything, including making a deal with an enemy angel.
Raffe is a warrior who lies broken and wingless on the street. After eons of fighting his own battles, he finds himself being rescued from a desperate situation by a half-starved teenage girl.
Traveling through a dark and twisted Northern California, they have only each other to rely on for survival. Together, they journey toward the angels' stronghold in San Francisco where she'll risk everything to rescue her sister and he'll put himself at the mercy of his greatest enemies for the chance to be made whole again
I love rereads what can I say. The Angel trope will forever be my secret pleasure. Give me Angels in a fantasy book and the rating will get better just because. Aside from that Angelfall has it all, a gripping story, a sassy heroine (that even got sassier with the 2nd reread). Penryn is stubborn, smart, couragous and badass. I love girls who get stuff done. You would not to stand in her way. But what really makes the book is the last third. I am a huge fan of a manga series called Angel Sanctuary, and this Book just picked up where the Manga left off. It's crazy, gory, full of action and the perfect mix for all those people who like insane stuff going on.
Song of the Current
by Sarah Tolcser
Find the book on goodreads or amazon
Rating: ✯✯✯✯
Summary: Caroline Oresteia is destined for the river. For generations, her family has been called by the river god, who has guided their wherries on countless voyages throughout the Riverlands. At seventeen, Caro has spent years listening to the water, ready to meet her fate. But the river god hasn't spoken her name yet—and if he hasn't by now, there's a chance he never will.
Caro decides to take her future into her own hands when her father is arrested for refusing to transport a mysterious crate. By agreeing to deliver it in exchange for his release, Caro finds herself caught in a web of politics and lies, with dangerous pirates after the cargo—an arrogant courier with a secret—and without the river god to help her. With so much at stake, Caro must choose between the life she always wanted and the one she never could have imagined for herself.
From debut author Sarah Tolcser comes an immersive and romantic fantasy set along the waterways of a magical world with a headstrong heroine determined to make her mark.
While everyone was going nuts over Roar, I waited for Song of the Current. Why? The plot sounded so much better then whatever Roar was offering. Did you ever try to read YA fantasy books without kings and queens? Yeah it's impossible. Song of the Current was promising me something different. Pirates, Adventure and a simple girl that suddenly got mixed up in a world she wanted to have nothing to do with. And I promise you Song of the Current does deliver. It still got some kings and intrigue, but the girl is just a plain normal girl, grown up on a little wherry. Its got the pirates, its got some ecpicness. it espacially got plot. So much plot in fact that I was not able to record the story on one page. Song of the Current has it weaknesses, sometimes it gets a little dull, sometimes there is just a little bit too much plot, sometimes the language is confusing but for a debut novel this was a total enjoyable read. Also did I mention pirates. Pirates always work (apperently even in a reading slump)
"How did you see it and not me?" "Sometimes," he said with a wistful half smile, "we need others to see the good in us before we can see it in ourselves."
The Graces
by Laure Eve
Find the book on goodreads or amazon
Rating: ✯✯✯
Summary: Everyone said the Graces were witches.
They moved through the corridors like sleek fish, ripples in their wake. Stares followed their backs and their hair.
They had friends, but they were just distractions. They were waiting for someone different.
All I had to do was show them that person was me.
Like everyone else in her town, River is obsessed with the Graces, attracted by their glamour and apparent ability to weave magic. But are they really what they seem? And are they more dangerous than they let on?
This beautifully-written thriller will grip you from its very first page
I can not tell you, how I managed to pick this book up. I thought this was going to be some simple high school paranormal book thing, easy to read, I thought it was good for my reading slump. Well, it was good for my reading slump, but it was definitly no an easy high school paranormal book. I wouldn't call the summary misleading, but whatever you expect after reading it, you will get something totally different. Well, maybe not, there are some reviewer who said they saw the plottwist coming from a mile away. Maybe I was like that, too and hoped I was wrong. The Graces is not a nice, little, cute story. It's dark, mysterious and morally questionable. This book is more about friendship, and dissappointing your friends. I was reminded on people who suffered from borderline that I met throughout my life. The Graces is different, but not necessarily in a good way. It's totally exciting to read, you get sucked up in it, but you may start hating the characters, you may start to despise their decisions and their motivations. Maybe that's exactly what makes this book special.
"It was a stupid, pointless thing, anyway, to try and make people love you. Everyone was alone. We were born alone and we died alone. Whatever we did in between was nothing but a series of attempts to stave off the darkness we knew was always waiting for us. That was weak. We should welcome the darkness in. If you knew a thing, it couldn't scare you as much. It couldn't hurt you. I knew darkness. I knew alone."
The Palace of Illusions
by Chitra Banerjee Divakaruni
Find the book on goodreads or amazon
Rating: ✯✯✯✯✯
Summary: A reimagining of the world-famous Indian epic, the Mahabharat—told from the point of view of an amazing woman.
Relevant to today's war-torn world, The Palace of Illusions takes us back to a time that is half history, half myth, and wholly magical. Narrated by Panchaali, the wife of the legendary Pandavas brothers in the Mahabharat, the novel gives us a new interpretation of this ancient tale.
The novel traces the princess Panchaali's life, beginning with her birth in fire and following her spirited balancing act as a woman with five husbands who have been cheated out of their father's kingdom. Panchaali is swept into their quest to reclaim their birthright, remaining at their side through years of exile and a terrible civil war involving all the important kings of India. Meanwhile, we never lose sight of her strategic duels with her mother-in-law, her complicated friendship with the enigmatic Krishna, or her secret attraction to the mysterious man who is her husbands' most dangerous enemy. Panchaali is a fiery female redefining for us a world of warriors, gods, and the ever-manipulating hands of fate.
THIS. BOOK. IS. A. GEM.
I will call this my Book of the month, and you will see it on my best of the year list. It also got me out of my reading slump.
This is a book of wisdom and etheral beauty. It's the retelling of a reaaaally old indian tale. Centered around a succession conflict that leads to a war. But it also tells the story of what it means to be an intelligent, courageous women in a patriarchal society. Aside from that it is nurture for your spirit and soul. So many great quotes. I cried a bunch of tears but felt afterwards like someone took some weight from my shoulders and I got a little closer to salvation.
"I saw something I hadn't realized before: words wasted energy. I would use my strength instead to nurture my belief that my life would unfurl uniquely."

"He believes it to be so. Isn't that what truth is? The force of a person's believing seeps into those around him – into the very earth and air and water – until there's nothing else."

"Expectations are like hidden rocks in your path – all they do is trip you up."

"What is the most wondrous thing on earth? Each day countless humans enter the Temple of Death, yet the ones left behind continue to live as though they were immortal."
Because You Love  to Hate Me: 13 Tales of Villainy
published by Ameriie
Find the book on goodreads or amazon
Rating: ✯✯✯✯
Summary: Leave it to the heroes to save the world–villains just want to rule the world.
In this unique YA anthology, thirteen acclaimed, bestselling authors team up with thirteen influential BookTubers to reimagine fairy tales from the oft-misunderstood villains' points of view.
These fractured, unconventional spins on classics like "Medusa," Sherlock Holmes, and "Jack and the Beanstalk" provide a behind-the-curtain look at villains' acts of vengeance, defiance, and rage–and the pain, heartbreak, and sorrow that spurned them on. No fairy tale will ever seem quite the same again!
Featuring writing from . . .
Authors: Renée Ahdieh, Ameriie, Soman Chainani, Susan Dennard, Sarah Enni, Marissa Meyer, Cindy Pon, Victoria Schwab, Samantha Shannon, Adam Silvera, Andrew Smith, April Genevieve Tucholke, and Nicola Yoon
Samantha Shannon, V. E. Schwab, Marissa Meyer and Susan Dennard in one Book? Short Stories? Villains? WHO DIDN'T WANT TO READ THIS. Alas, it sounded better than it was.  So what can I say? Yes, I enjoyed most of the stories, I adored Cindy Pons and Nicola Yoons story.  I really didn't like one story and thought about writing my own with that prompt because it was such a waste. The villains weren't all so villainy as I hoped them to be, but I found two new authors I really liked, so totally was worth it.
Silver Phoenix
by Cindy Pon
Find the book on goodreads or amazon
Rating: ✯✯✯✯
Summary: No one wanted Ai Ling. And deep down she is relieved—despite the dishonor she has brought upon her family—to be unbetrothed and free, not some stranger's subservient bride banished to the inner quarters.
But now, something is after her. Something terrifying—a force she cannot comprehend. And as pieces of the puzzle start to fit together, Ai Ling begins to understand that her journey to the Palace of Fragrant Dreams isn't only a quest to find her beloved father but a venture with stakes larger than she could have imagined.
Bravery, intelligence, the will to fight and fight hard . . . she will need all of these things. Just as she will need the new and mysterious power growing within her. She will also need help.
It is Chen Yong who finds her partly submerged and barely breathing at the edge of a deep lake. There is something of unspeakable evil trying to drag her under. On a quest of his own, Chen Yong offers that help . . . and perhaps more.
I love Wuxia Dramas and C-Novels, that's also why I loved Cindy Pons short story so much. There was no other option, but to check out her book directly afterwards. Her writing is awesome. It was a great book, full of adventure, chinese culture and mythology. I felt like I was reading another C – Novel (which was not fantranslated but directly written in english, how nice). Still I felt something was missing. Her short story definitely gripped me more. It was also her debut novel, you can see how much she grew already. I can't wait to check out her new book WANT.
Wintersong
by S. Jae-Jones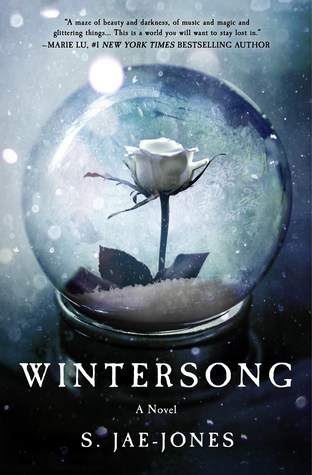 Find the book on goodreads or amazon
Rating: ✯✯✯
Summary: All her life, nineteen-year-old Liesl has heard tales of the beautiful, mysterious Goblin King. He is the Lord of Mischief, the Ruler Underground, and the muse around which her music is composed. Yet, as Liesl helps shoulder the burden of running her family's inn, her dreams of composition and childish fancies about the Goblin King must be set aside in favor of more practical concerns.
But when her sister Käthe is taken by the goblins, Liesl journeys to their realm to rescue her sister and return her to the world above. The Goblin King agrees to let Käthe go—for a price. The life of a maiden must be given to the land, in accordance with the old laws. A life for a life, he says. Without sacrifice, nothing good can grow. Without death, there can be no rebirth. In exchange for her sister's freedom, Liesl offers her hand in marriage to the Goblin King. He accepts.
Down in the Underground, Liesl discovers that the Goblin King still inspires her—musically, physically, emotionally. Yet even as her talent blossoms, Liesl's life is slowly fading away, the price she paid for becoming the Goblin King's bride. As the two of them grow closer, they must learn just what it is they are each willing to sacrifice: her life, her music, or the end of the world.
I feel so bad for not liking this book, you have no idea. Well, if you call three stars not liking something. I decided to read Wintersong, after I followed Jae-Jones on twitter. I love her tweets, they are fun. She has interesting thoughts and opinions. So I thought, her book must be as good. Just to get that out, her writing is beautiful. I seldom saw any author describe music like she did. While reading I thought I could hear the music. I had all these great images in my head, of her world, it was beautiful, but the chracters… I think it would have helped a lot if this wouldn't have played out in Bavaria. That's my home, I live here, I speak that language, and it was wrong. She got a lot of her worldbuilding and language right, but some stuff, especially the important stuff was pretty off. Maybe that's what has dissappointed me the most. If an author expects respect for their culture and origin, then as a reader I expect the author to do the same. It's the new age, we got internet, there are tons of germans crawling through the net, ask them to proofread, as a korean author you would ask the same if someone adds korean language into their book.
It's not DER Erlkönig. It's Erlkönig. And 'der' means 'the' and other then in the english language 'der' can become 'den' and 'dem' and it was fucking irritating. It's like you read an tea cup, or an book. It's wrong. You also do not say "the lord" all the time. Aside from that I was also missing the Wolpertinger (most important bavarian folkore entity, like I didn't even KNOW we had tales about goblins BESIDE the Wolpertinger) and Dirndl's where were the fucking Dirndls, and Brezeln. You know how important Brezeln are to Bavarians? But maybe that's a little too much detail for a YA fantasy tale. And now imagine me being pissed about reading about DER ERLKÖNIG every stupid time, and then the story just leaves you several times and stretches and ARGH. I also might mention that the Erlkönig was like one of the scariest poems I remeber as a child. Some people even tried to interepret the poem with child abuse. It just didn't fit with a good looking fairy king you wanna have hot sex with. Like he kills kids, and all (it's like the Witch in Hänsel and Gretel, you don't want to have hot sex with the Witch). If that language issue wouldn't exist that would definitely be a 4 star book. But man, it was too much
This got awfully long, and I am so sorry, I mean I should be so fucking happy that someone wrote about my home, I am awfully happy that someone wrote about my home and Jae-Jones is such a nice Person, but if this story would have played out in Ireland it would have probably been an awesome book. I just had to get that out of me. I hope you skipped some of it.
"My grief belonged to me and me alone, and I could not, did not want to share it with anyone"
At Any Price, Any Turn, Any Moment
by Brenna Aubrey

Find the book on goodreads or amazon
Rating: ✯✯✯
Summary: Achievement Unlocked: Geek Virgin
When Mia Strong, proud geek-girl and popular gaming blogger, auctions off her virginity online, she knows she'll make waves. But what she will not be making is a love connection. Her rules are set in stone: One night. No further contact.
It's a desperate step, but it's the only way she can go to medical school and pay her mother's mounting hospital bills.
Difficulty Level: Millionaire CEO
Adam Drake, the enigmatic auction winner, is a software prodigy who made his first million at seventeen. Now, in his mid-twenties, he's sexy, driven and–as CEO of his own gaming company–he's used to making the rules. Before Mia knows what's happening, he's found the loophole in the rules of her auction. Every stipulation she's made to protect her heart gets tossed by the wayside.
She can't tell if he's playing her…or if he's playing for keeps.
This New Adult book is intended for readers over the age of 18 due to adult language, sexual content and adult situations.
I found this book on Bookbud for as a free ebook deal. And if you are totally done with work and just can't concentrate anymore and you hate the world, you need that easy in between New Adult book, that just takes a little of that emptiness away. This was a fun series. It even had some character developement and girl geekiness inside. Also the stubbornness of the main character appealled to me. Nice read for in between, but nothing lasting or life changing.
And lastly I reread Blutbraut by Lynn Raven and Pride & Prejudice. The first one is not available in english and the 2nd is too famous already. I mean it's Pride & Prejudice, it's like THE book. Go read it, if you haven't.
Also I broke my Goodreads Reading Challenge *imagine happy dance here*  So my new secret reading goal will be 100 Books now, which I may closley miss. Let's see