I am not kidding, I have a ridiculous TBR, normally I have around 6 books, and then I have 3 books that I can still add… if I keep to my TBR.
But this month is different, this month there is no escape. Shit gets real, and it gets read. Because these books need to be done with. So welcome to my "Finish this" – holiday edition-
Also as a rule I need to read all of this in the exact order, I tried to balance it out, hopefully it will work.
Hollow City
by Ransom Riggs
Find the book on goodreads or amazon
Summary: Miss Peregrine's Home for Peculiar Children was the surprise best seller of 2011—an unprecedented mix of YA fantasy and vintage photography that enthralled readers and critics alike. Publishers Weekly called it "an enjoyable, eccentric read, distinguished by well-developed characters, a believable Welsh setting, and some very creepy monsters."
This second novel begins in 1940, immediately after the first book ended. Having escaped Miss Peregrine's island by the skin of their teeth, Jacob and his new friends must journey to London, the peculiar capital of the world. Along the way, they encounter new allies, a menagerie of peculiar animals, and other unexpected surprises.
Complete with dozens of newly discovered (and thoroughly mesmerizing) vintage photographs, this new adventure will delight readers of all ages.
Handmaid's Tale
by Margaret Artwood
Find the book on goodreads or amazon
Summary: 'It isn't running away they're afraid of. We wouldn't get far. It's those other escapes, the ones you can open in yourself, given a cutting edge'
Offred is a Handmaid. She has only one function: to breed. If she refuses to play her part she will, like all dissenters, be hanged at the wall or sent out to die slowly of radiation sickness. She may walk daily to the market and utter demure words to other Handmaids, but her role is fixed, her freedom a forgotten concept.
Offred remembers her old life – love, family, a job, access to the news. It has all been taken away. But even a repressive state cannot obliterate desire.
Includes exclusive content: In The 'Backstory' you can read Margaret Atwood's account of how she came to write this landmark dystopian novel.
A List of Cages
by Robin Roe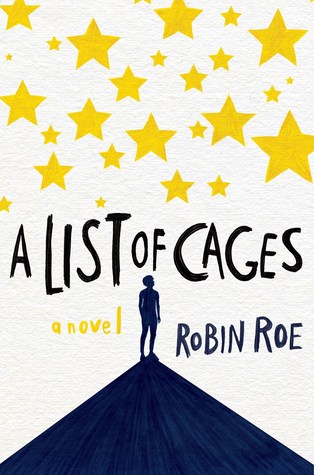 Find the book on goodreads or amazon
Summary: When Adam Blake lands the best elective ever in his senior year, serving as an aide to the school psychologist, he thinks he's got it made. Sure, it means a lot of sitting around, which isn't easy for a guy with ADHD, but he can't complain, since he gets to spend the period texting all his friends. Then the doctor asks him to track down the troubled freshman who keeps dodging her, and Adam discovers that the boy is Julian—the foster brother he hasn't seen in five years.
Adam is ecstatic to be reunited. At first, Julian seems like the boy he once knew. He's still kindhearted. He still writes stories and loves picture books meant for little kids. But as they spend more time together, Adam realizes that Julian is keeping secrets, like where he hides during the middle of the day, and what's really going on inside his house. Adam is determined to help him, but his involvement could cost both boys their lives…
Daughter of the Burning City
by Amanda Foody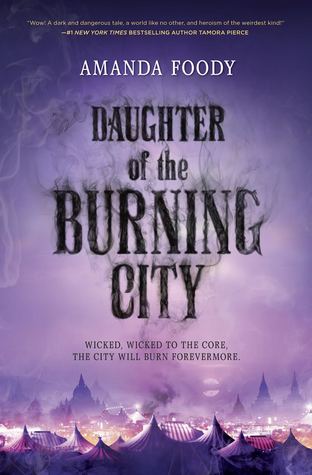 Find the book on goodreads or amazon
Summary: A darkly irresistible new fantasy set in the infamous Gomorrah Festival, a traveling carnival of debauchery that caters to the strangest of dreams and desires.
Sixteen-year-old Sorina has spent most of her life within the smoldering borders of the Gomorrah Festival. Yet even among the many unusual members of the traveling circus-city, Sorina stands apart as the only illusion-worker born in hundreds of years. This rare talent allows her to create illusions that others can see, feel and touch, with personalities all their own. Her creations are her family, and together they make up the cast of the Festival's Freak Show.
But no matter how lifelike they may seem, her illusions are still just that—illusions, and not truly real. Or so she always believed…until one of them is murdered.
Desperate to protect her family, Sorina must track down the culprit and determine how they killed a person who doesn't actually exist. Her search for answers leads her to the self-proclaimed gossip-worker Luca, and their investigation sends them through a haze of political turmoil and forbidden romance, and into the most sinister corners of the Festival. But as the killer continues murdering Sorina's illusions one by one, she must unravel the horrifying truth before all of her loved ones disappear.
The Sun is also a Star
by Nicola Yoon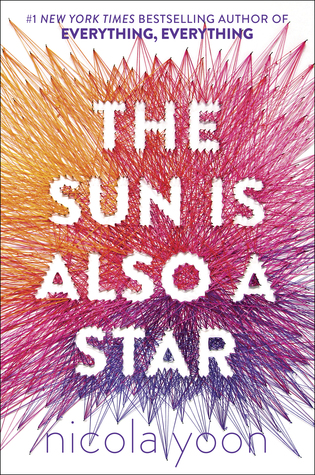 Find the book on goodreads or amazon
Summary: Natasha: I'm a girl who believes in science and facts. Not fate. Not destiny. Or dreams that will never come true. I'm definitely not the kind of girl who meets a cute boy on a crowded New York City street and falls in love with him. Not when my family is twelve hours away from being deported to Jamaica. Falling in love with him won't be my story.
Daniel: I've always been the good son, the good student, living up to my parents' high expectations. Never the poet. Or the dreamer. But when I see her, I forget about all that. Something about Natasha makes me think that fate has something much more extraordinary in store—for both of us.
The Universe: Every moment in our lives has brought us to this single moment. A million futures lie before us. Which one will come true?
The Long Way to a Small, Angry Planet
by Becky Chambers
Find the book on goodreads or amazon
Summary: Somewhere within our crowded sky, a crew of wormhole builders hops from planet to planet, on their way to the job of a lifetime. To the galaxy at large, humanity is a minor species, and one patched-up construction vessel is a mere speck on the starchart. This is an everyday sort of ship, just trying to get from here to there.
But all voyages leave their mark, and even the most ordinary of people have stories worth telling. A young Martian woman, hoping the vastness of space will put some distance between herself and the life she's left behind. An alien pilot, navigating life without her own kind. A pacifist captain, awaiting the return of a loved one at war.
Set against a backdrop of curious cultures and distant worlds, this episodic tale weaves together the adventures of nine eclectic characters, each on a journey of their own.
Bloodlines (Star Wars)
by Claudia Gray
Find the book on goodreads or amazon
Summary: WITNESS THE BIRTH OF THE RESISTANCE
 
When the Rebellion defeated the Empire in the skies above Endor, Leia Organa believed it was the beginning to a lasting peace. But after decades of vicious infighting and partisan gridlock in the New Republic Senate, that hope seems like a distant memory.
Now a respected senator, Leia must grapple with the dangers that threaten to cripple the fledgling democracy—from both within and without. Underworld kingpins, treacherous politicians, and Imperial loyalists are sowing chaos in the galaxy. Desperate to take action, senators are calling for the election of a First Senator. It is their hope that this influential post will bring strong leadership to a divided galaxy.
As the daughter of Darth Vader, Leia faces with distrust the prospect of any one person holding such a powerful position—even when supporters suggest Leia herself for the job. But a new enemy may make this path Leia's only option. For at the edges of the galaxy, a mysterious threat is growing. . . .
The Demon King
by Cinda Williams Chima
Find the book on goodreads or amazon
Summary: Times are hard in the mountain city of Fellsmarch. Reformed thief Han Alister will do almost anything to eke out a living for his family. The only thing of value he has is something he can't sell—the thick silver cuffs he's worn since birth. They're clearly magicked—as he grows, they grow, and he's never been able to get them off.
One day, Han and his clan friend, Dancer, confront three young wizards setting fire to the sacred mountain of Hanalea. Han takes an amulet from Micah Bayar, son of the High Wizard, to keep him from using it against them. Soon Han learns that the amulet has an evil history—it once belonged to the Demon King, the wizard who nearly destroyed the world a millennium ago. With a magical piece that powerful at stake, Han knows that the Bayars will stop at nothing to get it back.
Meanwhile, Raisa ana'Marianna, princess heir of the Fells, has her own battles to fight. She's just returned to court after three years of freedom in the mountains—riding, hunting, and working the famous clan markets. Raisa wants to be more than an ornament in a glittering cage. She aspires to be like Hanalea—the legendary warrior queen who killed the Demon King and saved the world. But her mother has other plans for her…
The Seven Realms tremble when the lives of Hans and Raisa collide, fanning the flames of the smoldering war between clans and wizards.
Leviathan wakes
by James S.A. Corey

Find the book on goodreads or amazon
Summary: Humanity has colonized the solar system – Mars, the Moon, the Asteroid Belt and beyond – but the stars are still out of our reach.
Jim Holden is XO of an ice miner making runs from the rings of Saturn to the mining stations of the Belt. When he and his crew stumble upon a derelict ship, the Scopuli, they find themselves in possession of a secret they never wanted. A secret that someone is willing to kill for – and kill on a scale unfathomable to Jim and his crew. War is brewing in the system unless he can find out who left the ship and why.
Detective Miller is looking for a girl. One girl in a system of billions, but her parents have money and money talks. When the trail leads him to the Scopuli and rebel sympathizer Holden, he realizes that this girl may be the key to everything.
Holden and Miller must thread the needle between the Earth government, the Outer Planet revolutionaries, and secretive corporations – and the odds are against them. But out in the Belt, the rules are different, and one small ship can change the fate of the universe.
The Twentieth Wife
by Indu Sundaresan
Find the book on goodreads or amazon
Summary: An enchanting seventeenth-century epic of grand passion and adventure, this debut novel tells the captivating story of one of India's most legendary and controversial empresses — a woman whose brilliance and determination trumped myriad obstacles, and whose love shaped the course of the Mughal empire.
She came into the world in the year 1577, to the howling accompaniment of a ferocious winter storm. As the daughter of starving refugees fleeing violent persecution in Persia, her fateful birth in a roadside tent sparked a miraculous reversal of family fortune, culminating in her father's introduction to the court of Emperor Akbar. She is called Mehrunnisa, the Sun of Women. This is her story.
Growing up on the fringes of Emperor Akbar's opulent palace grounds, Mehrunnisa blossoms into a sapphire-eyed child blessed with a precocious intelligence, luminous beauty, and a powerful ambition far surpassing the bounds of her family's station. Mehrunnisa first encounters young Prince Salim on his wedding day. In that instant, even as a royal gala swirls around her in celebration of the future emperor's first marriage, Mehrunnisa foresees the path of her own destiny. One day, she decides with uncompromising surety, she too will become Salim's wife. She is all of eight years old — and wholly unaware of the great price she and her family will pay for this dream.
Skillfully blending the textures of historical reality with the rich and sensuous imaginings of a timeless fairy tale, The Twentieth Wife sweeps readers up in the emotional pageant of Salim and Mehrunnisa's embattled love. First-time novelist Indu Sundaresan charts her heroine's enthralling journey across the years, from an ill-fated first marriage through motherhood and into a dangerous maze of power struggles and political machinations. Through it all, Mehrunnisa and Salim long with fiery intensity for the true, redemptive love they've never known — and their mutual quest ultimately takes them, and the vast empire that hangs in the balance, to places they never dreamed possible.
Shot through with wonder and suspense, The Twentieth Wife is at once a fascinating portrait of one woman's convention-defying life behind the veil and a transporting saga of the astonishing potency of love.
Prince of Fools
by Mark Lawrence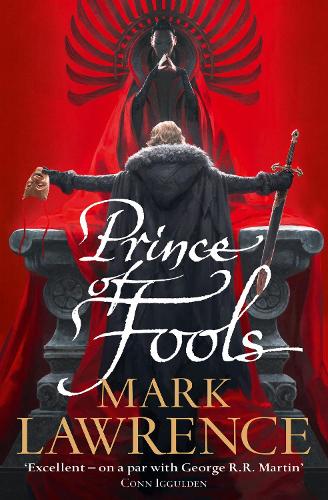 Find the book on goodreads or amazon
Summary: The Red Queen is old but the kings of the Broken Empire dread her like no other. For all her reign, she has fought the long war, contested in secret, against the powers that stand behind nations, for higher stakes than land or gold. Her greatest weapon is The Silent Sister—unseen by most and unspoken of by all.
The Red Queen's grandson, Prince Jalan Kendeth—drinker, gambler, seducer of women—is one who can see The Silent Sister. Tenth in line for the throne and content with his role as a minor royal, he pretends that the hideous crone is not there. But war is coming. Witnesses claim an undead army is on the march, and the Red Queen has called on her family to defend the realm. Jal thinks it's all a rumor—nothing that will affect him—but he is wrong.
After escaping a death trap set by the Silent Sister, Jal finds his fate magically intertwined with a fierce Norse warrior. As the two undertake a journey across the Empire to undo the spell, encountering grave dangers, willing women, and an upstart prince named Jorg Ancrath along the way, Jalan gradually catches a glimmer of the truth: he and the Norseman are but pieces in a game, part of a series of moves in the long war—and the Red Queen controls the board.
The Hate U Give
by Angie Thomas
Find the book on goodreads or amazon
Summary: Sixteen-year-old Starr Carter moves between two worlds: the poor neighborhood where she lives and the fancy suburban prep school she attends. The uneasy balance between these worlds is shattered when Starr witnesses the fatal shooting of her childhood best friend Khalil at the hands of a police officer. Khalil was unarmed.
Soon afterward, his death is a national headline. Some are calling him a thug, maybe even a drug dealer and a gangbanger. Protesters are taking to the streets in Khalil's name. Some cops and the local drug lord try to intimidate Starr and her family. What everyone wants to know is: what really went down that night? And the only person alive who can answer that is Starr.
But what Starr does or does not say could upend her community. It could also endanger her life.
The Midnight Sea
by Kat Ross
Find the book on goodreads or amazon
Summary: They are the light against the darkness.
The steel against the necromancy of the Druj.
And they use demons to hunt demons….
Nazafareen lives for revenge. A girl of the isolated Four-Legs Clan, all she knows about the King's elite Water Dogs is that they leash wicked creatures called daevas to protect the empire from the Undead. But when scouts arrive to recruit young people with the gift, she leaps at the chance to join their ranks. To hunt the monsters that killed her sister.
Scarred by grief, she's willing to pay any price, even if it requires linking with a daeva named Darius. Human in body, he's possessed of a terrifying power, one that Nazafareen controls. But the golden cuffs that join them have an unwanted side effect. Each experiences the other's emotions, and human and daeva start to grow dangerously close.
As they pursue a deadly foe across the arid waste of the Great Salt Plain to the glittering capital of Persepolae, unearthing the secrets of Darius's past along the way, Nazafareen is forced to question his slavery—and her own loyalty to the empire. But with an ancient evil stirring in the north, and a young conqueror sweeping in from the west, the fate of an entire civilization may be at stake…