I was so busy the last two weeks, I didn't have much time to read or write a blog post. So with this, I also kind of Wrap Up #theReadingQuest
This was my first kind of "Readathon" I participated in, and it was horrible hard for me after two weeks. It was a fun experience and it definitly supported me to get through some of my books on my TBR but I am definitly not fond of forcing myself to read several books I don't like after another. That's why I stick to short TBR's with a lot of freedom, and I even derivated from my original plan already anyway. But I tried and I got through several books I planned to finish. But I am so happy that I can now read whatever I want again and whatever fits my mood.
And here is the end result:
I read 16 Books in August. Six of them were Audiobooks and some of them were awwwwwfully long. I still couldn't finish two books from my "Finish this" List but, that's okay, I am gonna read them some other time.
The Heart of Betrayal  & The Beauty of Darkness
by Mary E. Pearson
Find the book on goodreads or amazon
The Kiss of Deception: ✯✯✯
The Heart of Betrayal: ✯✯✯✯✯
The Beauty of Darkness: ✯✯✯✯
The Kiss of Deception Summary:

A princess must find her place in a reborn world.

She flees on her wedding day.

She steals ancient documents from the Chancellor's secret collection.

She is pursued by bounty hunters sent by her own father.

She is Princess Lia, seventeen, First Daughter of the House of Morrighan.

The Kingdom of Morrighan is steeped in tradition and the stories of a bygone world, but some traditions Lia can't abide. Like having to marry someone she's never met to secure a political alliance.

Fed up and ready for a new life, Lia flees to a distant village on the morning of her wedding. She settles in among the common folk, intrigued when two mysterious and handsome strangers arrive—and unaware that one is the jilted prince and the other an assassin sent to kill her. Deceptions swirl and Lia finds herself on the brink of unlocking perilous secrets—secrets that may unravel her world—even as she feels herself falling in love
Say hello to the books that forced me to replan my books for the challenge. I read 'The Heart of Betrayal' as a Sidequest called 'Respawn – Read a book you previously dnfed' and I needed to complete the series after I finsished the 2nd volume. I am so fucking glad I did. The first book left me with a meh feeling. It was not bad, but it also wasn't the best YA book I ever read. I remember when I tried to listen to 'The Heart of Betrayal' the first time, I got so pissed at Lia directly in the beginning that I gave up, which was a BIG mistake. There was so much character developement going on in the second book, it was fantastic. Lia grew so very strong and smart, I couldn't recognize her anymore from the naive girl in the first book. The politics where done so well, the worldbuilding improved and the story just kept me on my toes. It's pretty similar to Winner's Crime but I enjoyed 'the Heart of Betrayal' much more.
The third book was not as good overall as the second, because the romance stuff got in the way (you would think two smart people could talk things out, apperantly not) but after they seperated things got interesting and fun again. I am really happy, that I picked up the book again. This was one of the highlights of the month.
The Hate U Give
by Angie Thomas
Find the book on goodreads or amazon
Rating: ✯✯✯✯✯
Summary: Sixteen-year-old Starr Carter moves between two worlds: the poor neighborhood where she lives and the fancy suburban prep school she attends. The uneasy balance between these worlds is shattered when Starr witnesses the fatal shooting of her childhood best friend Khalil at the hands of a police officer. Khalil was unarmed.

Soon afterward, his death is a national headline. Some are calling him a thug, maybe even a drug dealer and a gangbanger. Protesters are taking to the streets in Khalil's name. Some cops and the local drug lord try to intimidate Starr and her family. What everyone wants to know is: what really went down that night? And the only person alive who can answer that is Starr.

But what Starr does or does not say could upend her community. It could also endanger her life.
I put this book off for a long time, because I knew it was a hard read. It's full of complicated feelings people (or maybe just I) don't want to confront. This books is very very important for this generation and I am so glad Thomas wrote it. I am so happy that it is so prominent that it's still number 1 on the NYT bestselling list for several months.
Thomas doesn't pick up her cane and swings it and tells you how she thinks white people should behave. No, she paints an intricate picture of what the reality of black people is like. It is not full of accusations, she shows how both sides are wrong, how a system works behind it, that prevents any change, and how people get imprisoned by this system with no way out. And she does this all while creating a novel even teenagers can understand, without complicated phrases. A thing that annoyed me the most was that people did not talk with each other. White people felt too shy to ask, black people were too tired to explain. There is no dialouge. Aside from that, I have no idea how a government can allow getthos as described in the book. This was not a depiction of a democratic state, but a 3rd world city run by drug lords. How can people even accept that?  I am still believing that the first thing to do would be to forbid guns but I now also believe that you need to break up those getthos.
What I took from this book, was to listen and to ask. Get into a dialogue with others. Do not be afraid to ask why a person feels offended by a comment. Try again to understand their way of life and why people are living it that way.
Prince of Fools
by Mark Lawrence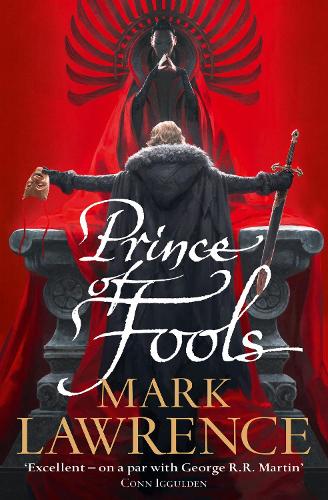 Find the book on goodreads or amazon
Rating: ✯✯
Summary: The Red Queen is old but the kings of the Broken Empire dread her like no other. For all her reign, she has fought the long war, contested in secret, against the powers that stand behind nations, for higher stakes than land or gold. Her greatest weapon is The Silent Sister—unseen by most and unspoken of by all.

The Red Queen's grandson, Prince Jalan Kendeth—drinker, gambler, seducer of women—is one who can see The Silent Sister. Tenth in line for the throne and content with his role as a minor royal, he pretends that the hideous crone is not there. But war is coming. Witnesses claim an undead army is on the march, and the Red Queen has called on her family to defend the realm. Jal thinks it's all a rumor—nothing that will affect him—but he is wrong.

After escaping a death trap set by the Silent Sister, Jal finds his fate magically intertwined with a fierce Norse warrior. As the two undertake a journey across the Empire to undo the spell, encountering grave dangers, willing women, and an upstart prince named Jorg Ancrath along the way, Jalan gradually catches a glimmer of the truth: he and the Norseman are but pieces in a game, part of a series of moves in the long war—and the Red Queen controls the board.
I think this was the book that ruined the whole #theReadingQuest for me. This was a "lukewarm – i have read this thousandths of time – can you please make sense about this character" that it bored me to death. I felt I couldn't get out of this. I mean the idea is so good: princling and big badass viking meet and go on a journey to save the world. It all started so well, until it came crashing down.  I mean Lawrence tried to create another Rincewind. But let's face it. Lawrence is not Terry Pratchett, and only Pratchett can pull it off to create a character that is a hero by being no hero. I hated Jalan, I couldn't understand Snorri (so are you brutal now, or an a good hearted angel?), the story didn't make much sense, or maybe it made sense, and I am just searching for intricacies where there are none to be found. Let's take the beginning. No one likes the Prince in the family because he has debts and got nothing better to do than gamble and woo woman. Then his brother comes to him, and tells him he needs to be at an opera, because his father (something like the pope) expects his whole family to partake, like a royal function. When Jalan appears at the Opera none of his family members are there. No One. Secondes before the whole building gets set aflame he manages to escape. You know what my first thought is? Someone set him up to murder him, and get him erased from the family tree. But that didn't even cross Jalans mind. No he just accepts that he got jinxed as a result and now needs to accompany the Norseman to free the world. What kind of set up is this. And this isn't the only scene that I question. There were more. Also the whole journey was totally boring, and nothing out of consequence happened.
I will not read the second volume, and even if you are a die hard viking fan, maybe search for a better book. Read Locke Lamorra or the colors of light, do yourself a favour and skip this one.
The Midnight Sea
by Kat Ross
Find the book on goodreads or amazon
Rating: ✯✯✯✯✯
Summary: They are the light against the darkness.

The steel against the necromancy of the Druj.

And they use demons to hunt demons….

Nazafareen lives for revenge. A girl of the isolated Four-Legs Clan, all she knows about the King's elite Water Dogs is that they leash wicked creatures called daevas to protect the empire from the Undead. But when scouts arrive to recruit young people with the gift, she leaps at the chance to join their ranks. To hunt the monsters that killed her sister.

Scarred by grief, she's willing to pay any price, even if it requires linking with a daeva named Darius. Human in body, he's possessed of a terrifying power, one that Nazafareen controls. But the golden cuffs that join them have an unwanted side effect. Each experiences the other's emotions, and human and daeva start to grow dangerously close.

As they pursue a deadly foe across the arid waste of the Great Salt Plain to the glittering capital of Persepolae, unearthing the secrets of Darius's past along the way, Nazafareen is forced to question his slavery—and her own loyalty to the empire. But with an ancient evil stirring in the north, and a young conqueror sweeping in from the west, the fate of an entire civilization may be at stake…
Say hello to another underrated book. I got this as a book deal through bookbud, and so I thought, well it's there, let's read it. It started a little bit weired and slow, but when the story picked up, it got me in the guts. The story takes place around the time Alxander the great conquers Persia. I thought this was some little otherworld fantasy book, but it actually connects with history. Also it got some very drastic plottwists. The use of mythology and how the Djinns are incorporated into the story is fresh and enticing. This is a solid, nice YA Book.
The Jungle Book
by Rudyard Kipling
Find the book on goodreads or amazon
Rating: ✯✯✯✯✯
Summary: First published by Macmillan in 1894, The Jungle Book is the classic collection of animal tales that shows Rudyard Kipling's writing for children at its best. The short stories and poems include the tale of Mowgli, a boy raised by a pack of wolves in the Indian jungle. We meet the tiger Shere Khan, Bagheera, the black panther, Baloo, the 'sleepy brown bear', and the python, Kaa. Other famous stories include the tale of the fearless mongoose Rikki-Tikki-Tavi, and that of elephant-handler Toomai of the Elephants
This Classic was so much fun. The book consists of 6 Stories,  with 3 of them about Mowgli, and three more about other animals. In between Kipling summarizes the stories in poems. Back when I was a kid, they aired a jungle book anime series on TV. I can't remember it all too well, but I remembered all the names, The anime was pretty similar to the original book, so it felt like revisiting an old friend. The jokes were so good. There is a story about the apes and how they kidnapped Mowgli and Bagheera and Baloo need to save him. To do this, they need the help from Kaa. The way Baloo and Bagheera convince Kaa made me laugh so much, that I still get laugh flash in public when i remember it. The three other short stories are nice, and little bonuses, but the highlight is definitly Mowglis story. It's short, cute and funny and a perfect read for in between.
Trickery
by Jaymin Eve and Jane Washington
Find the book on goodreads or amazon
Rating: ✯✯✯✯
Summary: Willa Knight: Dweller. Slave. Non-magical being.

In Minatsol, being a dweller means that you are literally no better than dirt. In fact, dirt might actually be more useful than Willa. Her life will be one of servitude to the sols, the magic-blessed beings who could one day be chosen to become gods.

At least her outer village is far removed from the cities of the sols, and she won't ever be forced to present herself to them… Until one small mistake changes everything, and Willa is awarded a position to serve at Blesswood, the top sol academy in the world—a position that she definitely did not earn.

Under the sudden, watchful eye of the gods, she will be tasked to serve the Abcurse brothers, five sols built of arrogance, perfection and power. They are almost gods themselves, and under their service she is either going to end up sentenced to death, or else they are going to ruin her so badly that she will wish for it.

Either way, she is in trouble.

This is a full novel, 90,000 words. Book 1 of 5 in the Curse of the Gods Series
Do you like sassy characters and morbid jokes? Then you might like Trickery. The Story is okay, Willas Jokes are awesome, the friendship portrayed special and the brothers are basically all the same. It's a fast book and an easy read. Perfect, when you are too tired to read and concentrate on a serious book. You should also be okay with nudity. All in all just don't expect too much, then this book will serve you some entertaining hours.