Did you also feel September just flew by? I always start work in September again, so naturally there was a lot to do and no time to read. I have read 6 Books in September, I think that was my lowest in the whole year. I just had overdone it August I guess XD. I already reviewed The Jungle Book and Trickery in my last wrap up. So here are the other 4 books
Burying Water
by K.A. Tucker

Find the book on goodreads or amazon
Rating: ✯✯✯
Summary: The top-selling, beloved indie author of Ten Tiny Breaths returns with a new romance about a young woman who loses her memory—and the man who knows that the only way to protect her is to stay away.

Left for dead in the fields of rural Oregon, a young woman defies all odds and survives—but she awakens with no idea who she is, or what happened to her. Refusing to answer to "Jane Doe" for another day, the woman renames herself "Water" for the tiny, hidden marking on her body—the only clue to her past. Taken in by old Ginny Fitzgerald, a crotchety but kind lady living on a nearby horse farm, Water slowly begins building a new life. But as she attempts to piece together the fleeting slivers of her memory, more questions emerge: Who is the next-door neighbor, quietly toiling under the hood of his Barracuda? Why won't Ginny let him step foot on her property? And why does Water feel she recognizes him?

Twenty-four-year-old Jesse Welles doesn't know how long it will be before Water gets her memory back. For her sake, Jesse hopes the answer is never. He knows that she'll stay so much safer—and happier—that way. And that's why, as hard as it is, he needs to keep his distance. Because getting too close could flood her with realities better left buried.

The trouble is, water always seems to find its way to the surface.
The reason I wanted to read this book was so superficial, but there are trigger words, against which I'm powerless, like rebirth, angel and rain. The 2nd book in this series is called 'Becoming Rain' and was recommend to me through my kindle. Naturally I cannot read the 2nd book without reading the first. And this was a mistake. Because it's the kind of romance series with different characters per book. I could have immediatly started 'Becoming Rain'. Now I have read 'Burying water and I am not excited to read the 2nd book. I do not like the characters who will be the main protagonists nor did I feel that 'Burying Water' was such a well written and great book. We have read the story a thousand times before. The Mafia aspect was not believable and for the sake of me I am not interested in cars. I mean it was cute, the side story of the old women who takes Water in after her accident is quite touching but that's basically it. I am happy I had this as audiobook for inbetween because I would have dnfed it otherwise.
The Demon King
by Cinda Williams Chima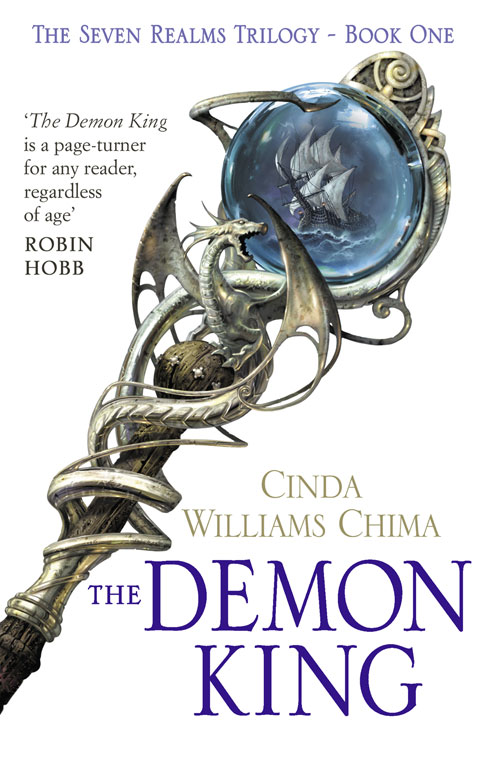 Find the book on goodreads or amazon
Rating: ✯✯✯
Summary: Times are hard in the mountain city of Fellsmarch. Reformed thief Han Alister will do almost anything to eke out a living for his family. The only thing of value he has is something he can't sell—the thick silver cuffs he's worn since birth. They're clearly magicked—as he grows, they grow, and he's never been able to get them off.

One day, Han and his clan friend, Dancer, confront three young wizards setting fire to the sacred mountain of Hanalea. Han takes an amulet from Micah Bayar, son of the High Wizard, to keep him from using it against them. Soon Han learns that the amulet has an evil history—it once belonged to the Demon King, the wizard who nearly destroyed the world a millennium ago. With a magical piece that powerful at stake, Han knows that the Bayars will stop at nothing to get it back.

Meanwhile, Raisa ana'Marianna, princess heir of the Fells, has her own battles to fight. She's just returned to court after three years of freedom in the mountains—riding, hunting, and working the famous clan markets. Raisa wants to be more than an ornament in a glittering cage. She aspires to be like Hanalea—the legendary warrior queen who killed the Demon King and saved the world. But her mother has other plans for her…

The Seven Realms tremble when the lives of Hans and Raisa collide, fanning the flames of the smoldering war between clans and wizards.
If I start with "I have a lot to say about this book", I am scared you will all turn around and walk away. So I will keep myself short and maybe think about doing a single review for this one (if I ever feel like wasting anymore of my time on this book). This was 400 pages boring-stuff-that-no-one-cares-about and 100 pages ahh-this-is-what-the-story-is-about" journey. The characters were bland and stereotyped with the exception of Han… maybe, I am not sure, he might have just been the better option, because I hated Raisas chapters. And just to give you an example why Raisa sucked so much: Imagine you are being raised the heir to a powerful kingdom, you are tutored hours after hours, and then you visit your father and learn all about trade. At the tender age of 16 you realize you actually have a lot of power and you want to change the life of poor citizens living in the streets of the capital, being harrassed by the guard. As a smart girl with the spirit of an activist, what do you do? Yes, you get your braclets and gold chains and donate them… No you are not! You grew up at court, at the center of power. You actually have power yourself, a lot in fact (even if you mother doesn't listen to you). No one can tell me that a girl like Raisa is incabable of (or at least trying to) influence people around her to do her bidding. Her tutors should stand at the sidelines and cheer for her. She learned trade from her father, she should have a basic knowledge on how the economy works, and the only thing she can think of is donating her jewellery? Why not set up a little company for girls who get empowered there to learn a trade, which would secure them an income? Why not try to get the stupid guard thrown out, by finding out who is backing him up, and infiltrate some guard of your own? Why not get OTHERS to do the donating instead of doing it yourself? Where was the Intrigue? The Manipulation? There was nothing, instead you got dances and clothes and urrrgh. This was a rather long example, but this was one of the main points that annoyed me to death. If the book would have had 150 pages, all told from the perspective of Han I would have liked the book.
Queen of Blood
by Sarah Beth Durst

Find the book on goodreads or amazon
Rating: ✯✯✯✯
Summary: An idealistic young student and a banished warrior become allies in a battle to save their realm in this first book of a mesmerizing epic fantasy series, filled with political intrigue, violent magic, malevolent spirits, and thrilling adventure

Everything has a spirit: the willow tree with leaves that kiss the pond, the stream that feeds the river, the wind that exhales fresh snow . . .

But the spirits that reside within this land want to rid it of all humans. One woman stands between these malevolent spirits and the end of humankind: the queen. She alone has the magical power to prevent the spirits from destroying every man, woman, and child. But queens are still just human, and no matter how strong or good, the threat of danger always looms.

With the position so precarious, young women are chosen to train as heirs. Daleina, a seemingly quiet academy student, is under no illusions as to her claim to the throne, but simply wants to right the wrongs that have befallen the land. Ven, a disgraced champion, has spent his exile secretly fighting against the growing number of spirit attacks. Joining forces, these daring partners embark on a treacherous quest to find the source of the spirits' restlessness—a journey that will test their courage and trust, and force them to stand against both enemies and friends to save their land . . . before it's bathed in blood.
This was something new and fun. The first thing that will attract your attention is the world building, which is different from anything you've ever read. Yeah maybe aside from Magic Study (But magic study didn't have a magic school and we all love magic schools). So yes, you need to read the book just for the world building, especially if you are searching for something new. The story is great, the idea behind it, is great, the characters are great. Although I didn't get all emtional about the book and I can't tell you exactly why. The book had all the perfect points a good story needs. A main character that loses and needs to work hard to achieve her goal, different settings and fluent story writing, little plot twists, love, death, epicness. I believe I am just not the forest kind of girl, I am more the mountain, ocean and desert kind of girl. I have read Vessel from Durst before, which plays in a desert setting and I loved that book (still do, awesome book, everything was perfect about that one). So, even if the world building is awesome, it's not my favourite kind, but I am sure you will love it.
Peter Pan
by J. M. Barrie

Find the book on goodreads or amazon
Rating: ✯✯✯✯✯
Summary: Peter Pan, the book based on J.M. Barrie's famous play, is filled with unforgettable characters: Peter Pan, the boy who would not grow up; the fairy, Tinker Bell; the evil pirate, Captain Hook; and the three children–Wendy, John, and Michael–who fly off with Peter Pan to Neverland, where they meet Indians and pirates and a crocodile that ticks. Renowned children's-book artist Michael Hague has brought the amazing adventures of Peter Pan to life. His beautiful illustrations capture the wild, seductive power of this classic book. This newly designed edition will be enjoyed by fans young and old alike.

2017 is going to be the year of the children classics. After finally reading Alice in Wonderland 1 and 2 and the jungle book, i finally got around to read Peter Pan (next up is 'The Wizard of OZ' watch me). This was on my TBR for a long time. Ever since I found out, there is a book about this and when I went to the book store I found this little gem
I had to take it home with me and since I felt this was perfect for autumn, dived right into it.
Peter Pan is fun and exciting to read. There are pirates! Did you ever realize there are pirates? I kind of didn't. I mean there was Hook, but in my childhood memory of the disney movie this wasn't placed on my 'most important things about this movie' priority list. But now, today, as an adult, I can tell you: there are pirates! This book is also much more bloodier than I expected. Oh and funny. The Darlings are such a tremendously funny family. If you are searching for the next perfect book, to get lost in adventures and feed your inner child, go read Peter Pan.
As a non native speaker I had huge problems with the english. I had to read more than one chapter out loud to get into the rythmn of the language, and I had real trouble with some of the words (do you know how long it took, until I got that Nana was in fact a dog, and not a nurse, or that red skin meant Indian?) I believe if this book would be examined for political correctness in children literature, it might fail the test. If you are a non native speaker, prepare yourself with a dictionary and some more time than usual even if it's a real short book.
Bam bada bam bam baaaaaam. That's it. 6 Books. Lots of fun. I believe I just had to fill September up, to get to the real good books that came out. but I will talk about that in my TBR for October. So long.