What a Reading month, Guys. I knew it would be good, but I would have never fathomed the extent. There are several books that will battle to get on my favourite books of the year list. Also RIP my TBR. I did my best, though XD
Even the Darkest Stars
by Heather Fawcett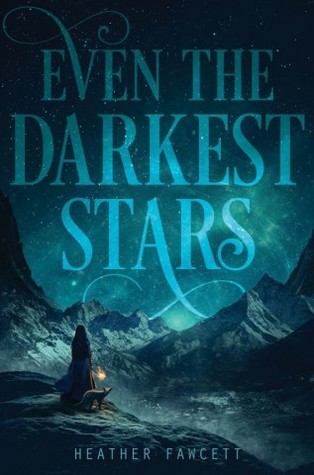 Find the book on goodreads or amazon
Rating: ✯✯✯✯✯
Kamzin has always dreamed of becoming one of the Emperor's royal explorers, the elite climbers tasked with mapping the wintry, mountainous Empire and spying on its enemies. She knows she could be the best in the world, if only someone would give her a chance.

But everything changes when the mysterious and eccentric River Shara, the greatest explorer ever known, arrives in her village and demands to hire Kamzin—not her older sister Lusha, as everyone had expected—for his next expedition. This is Kamzin's chance to prove herself—even though River's mission to retrieve a rare talisman for the emperor means climbing Raksha, the tallest and deadliest mountain in the Aryas. Then Lusha sets off on her own mission to Raksha with a rival explorer who is determined to best River, and Kamzin must decide what's most important to her: protecting her sister from the countless perils of the climb or beating her to the summit.

The challenges of climbing Raksha are unlike anything Kamzin expected—or prepared for—with avalanches, ice chasms, ghosts, and even worse at every turn. And as dark secrets are revealed, Kamzin must unravel the truth of their mission and of her companions—while surviving the deadliest climb she has ever faced.
Guys, I am not sure if you know, but I am a big fan of hiking. It's serious. When others dream of a holiday relaxing at the ocean, listening to the calm waves of the ocean, I yearn for the fresh air of mountains and the thrill I get when I stand in front of one and am about to walk the whole way up. Now guess what I thought about this book XD
Fawcett proves to be superb at world building. Beside the issue of missing air, the higher they get up Raksha, she provides a rich mountainous landscape with a fitting culture. And I dig that. Other reviewers complained about the missing depth of characters or plot. But honestly, I couldn't even concentrate on that, because all I was doing in my head was walking all that way together with Kamzin. I learned from my mother to never underestimate mountains and I know exactly how dangerous the things are that Kamzin is doing, so for me this was thrilling, and I had a deep respect for that girl and the things she did.
And as a fun side story: I had no Idea which book fairyloot would put in their subscription box in September (I was cautious with buying books that month). And then I opened it and found "Even the Darkest Stars". I started the reading trial an hour before the post man arrived and was about to buy the eBook, when the doorbell rang, and I found the book at the bottom of my fairyloot. I was really happy that day. Although I have no idea how they came up with "All that sass" as a title for the September box which should have been based on Kamzin, since I wouldn't describe her like that.
The Language of Thorns
by Leigh Bardugo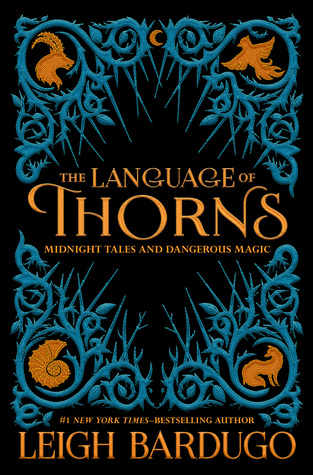 Find the book on goodreads or amazon
Rating: ✯✯✯✯✯
Love speaks in flowers. Truth requires thorns.

Travel to a world of dark bargains struck by moonlight, of haunted towns and hungry woods, of talking beasts and gingerbread golems, where a young mermaid's voice can summon deadly storms and where a river might do a lovestruck boy's bidding but only for a terrible price.

Inspired by myth, fairy tale, and folklore, #1 New York Times–bestselling author Leigh Bardugo has crafted a deliciously atmospheric collection of short stories filled with betrayals, revenge, sacrifice, and love.

Perfect for new readers and dedicated fans, these tales will transport you to lands both familiar and strange—to a fully realized world of dangerous magic that millions have visited through the novels of the Grishaverse.

This collection of six stories includes three brand-new tales, all of them lavishly illustrated with art that changes with each turn of the page, culminating in six stunning full-spread illustrations as rich in detail as the stories themselves.
Buy. This. Book!
I am not kidding. Buy it. You will love it! I have never read so beautiful crafted fairytales. You don't even need to have read any other book by Leigh Bardugo before, you will still love it. If you like fairytales, you will love this. The best short stories ever. I want to go back and read them again. I cannot even tell you which I liked the most. They are spooky and full of twists and turns. You gonna get witches, smart foxes, wooden dolls and mermaids. Sounds phantastic, doesn't it?!
And not only to praise the stories, here is a rare praise for the book itself. I am not huge on collecting books, and I really hate hardcovers. If I need to choose between Hardcover, Paperback and eBook, I will take the eBook or the paperback. The Languge of Thorns though is worth every penny and one of the most beautiful books I have ever seen. Smooth pages, beautiful dust cover, stunning artwork, the perfect feeling in your hand while you turn the page. If all Hardcovers were like that, I would probably change my opinion on them.
Buy it!
Scarlet
by Marissa Meyer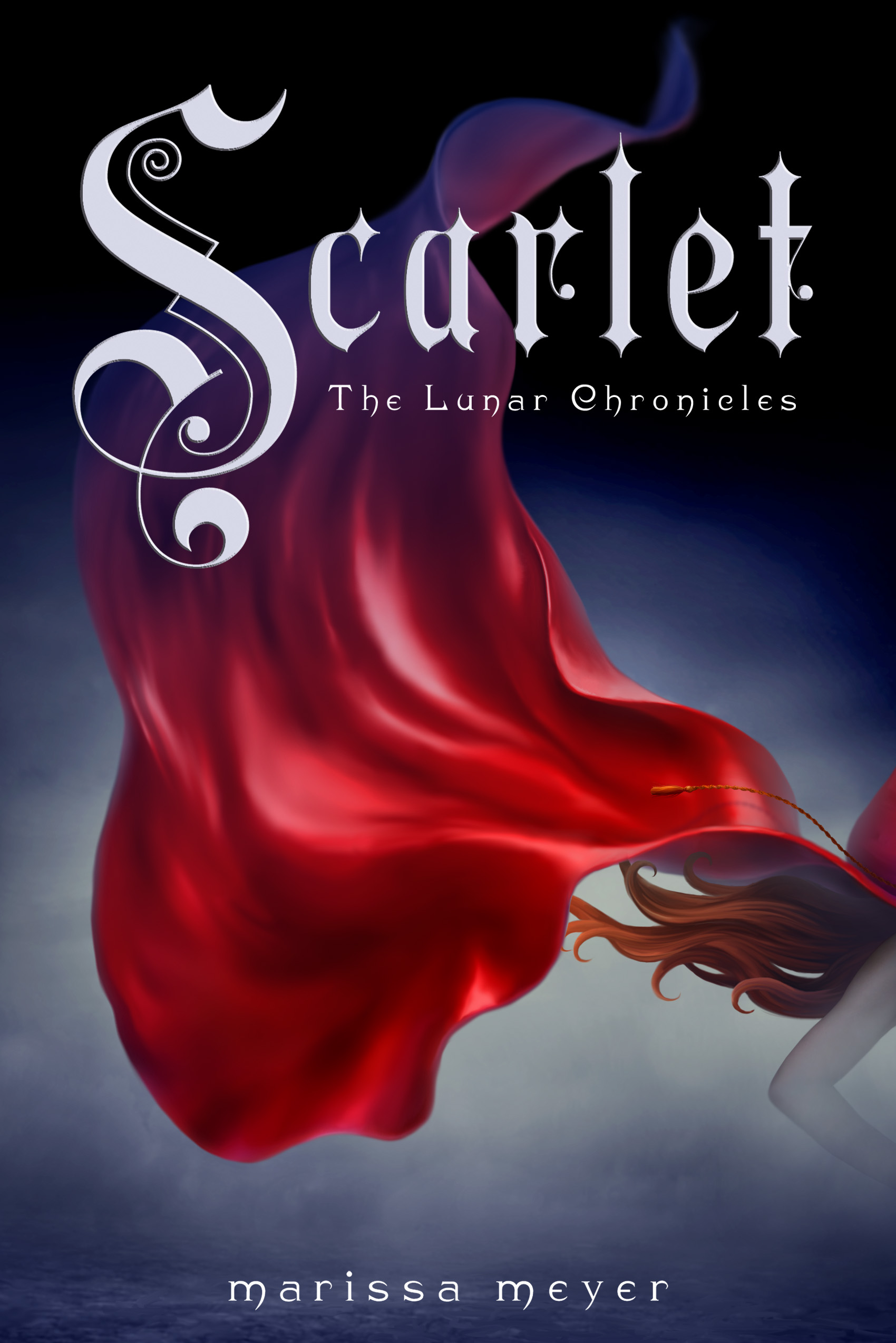 Find the book on goodreads or amazon
Rating: ✯✯✯✯
Cinder, the cyborg mechanic, returns in the second thrilling installment of the bestselling Lunar Chronicles. She's trying to break out of prison—even though if she succeeds, she'll be the Commonwealth's most wanted fugitive.

Halfway around the world, Scarlet Benoit's grandmother is missing. When Scarlet encounters Wolf, a street fighter who may have information as to her grandmother's whereabouts, she is loath to trust this stranger, but is inexplicably drawn to him, and he to her. As Scarlet and Wolf unravel one mystery, they encounter another when they meet Cinder. Now, all of them must stay one step ahead of the vicious Lunar Queen Levana, who will do anything for the handsome Prince Kai to become her husband, her king, her prisoner.
I am currently rereading the Lunar Chronicles, because withdrawal symptoms. So, I started with Cinder in September, and now I reread Scarlet in October, which leaves Cress for November and December (isn't it awfully fitting to read Winter in December? I am surprised by my perfect timing). Scarlet is my least favourite book in the whole series. I still love it, but I think I am still not over the shock when I started Scarlet for the first time, and figured that I didn't meet Cinder in the first ages, even if it was easier this time around, because I knew this would happened. Still Wolf and Scarlet didn't grow on me much. I am still no fan of the whole military uniform thing. The best of the whole book is meeting Thorne, who just doesn't have enough pages XD.
I think what impresses me the most, while rereading the Lunar Chronicles is to realize, that it is dealing with heavy issues. I somehow was so immersed in the characters and all the fun the first time around, that I didn't realize what awful things are actually happening. In Cinder there are tons of people dying because of the virus, for which cyborgs are basically sentenced to death. And in Scarlet there were massive terrorist attacks, it's fucking bloody and evil. I think Meyer is not dwelling so much on it, and the characters are so easy going and loveable, with a lot of humor mixed in, that it kind of covers the seriousness of the issues.
Anyway, Cress is coming up next (not that I am rereading the ENTIRE thing just to read Cress again… Thorne <3)
The Last Namsara
by Kristen Ciccarelli

Find the book on goodreads or amazon
Rating: ✯✯✯✯✯
In the beginning, there was the Namsara: the child of sky and spirit, who carried love and laughter wherever he went. But where there is light, there must be darkness—and so there was also the Iskari. The child of blood and moonlight. The destroyer. The death-bringer.

These are the legends that Asha, daughter of the king of Firgaard, has grown up learning in hushed whispers, drawn to the forbidden figures of the past. But it isn't until she becomes the fiercest, most feared dragon slayer in the land that she takes on the role of the next Iskari—a lonely destiny that leaves her feeling more like a weapon than a girl.

Asha conquers each dragon and brings its head to the king, but no kill can free her from the shackles that await at home: her betrothal to the cruel commandant, a man who holds the truth about her nature in his palm. When she's offered the chance to gain her freedom in exchange for the life of the most powerful dragon in Firgaard, she finds that there may be more truth to the ancient stories than she ever could have expected. With the help of a secret friend—a slave boy from her betrothed's household—Asha must shed the layers of her Iskari bondage and open her heart to love, light, and a truth that has been kept from her.
Ohhh, the fun. This was a fast in between read. I cannot tell you how I found out about Last Namsara, but I felt it wasn't hyped prepublishing. I probably went through the YA October Release List. After reading the blurb, I immediately preordered the book, that's how sure I was I would love this. Even though, I am not a dragon maniac. In this book though, the sentence: "And there are fucking Dragons." is a totally reasonable purchase indicator.
I basically flew through the pages and it's the best feeling ever. I had to mess up my whole weekend because I couldn't stop reading it, which didn't happen for a long time. Badass slayer female killing dragons. Please! What I liked best though, was that she felt so normal. Imagine you grew up in a culture where it's standard procedure to hate people who have a green skin color *cough*. Then someone comes and tells you, that people with green skin color are as valuable as other people and you should not hate them. Your first reaction will not be "Oh, yes! You are totally right! I will immediately stop hating them." No, no, your first reaction will be "Wtf are you talking about! You are a heretic, go burn." I loved this part about that book. It takes a veeery long time until Asha understands what is going on. Change needs time.
In between the chapters, there were short stories about Asha's culture and religion. Now if you thought, female slayer and dragons were enough to make this book a thing, you clearly underestimated these little stories that will crush. your. heart. They made me fucking cry. Please, let me repeat. A 3-page short story managed to make me so emotional that I started to cry. This is skills, guys.
Now, in-between reading, I somehow started to get curious about the author. I think I was so impressed by the book that I wanted to know more about the person behind it. Then I found this little trailer. I was so moved by her words. It's something so easy to agree on. I felt so moved by it and it made this book even more beautiful.
So, yeah, GET THE BOOK.
(OMG, funny side story. When I read the book, I wondered why this was NOT a fairyloot book, because everything about it screams, fairyloot. Yeah… right XD I was just faster)
Invictus
by Ryan Graudin

Find the book on goodreads or amazon
Rating: ✯✯✯
Time flies when you're plundering history.

Farway Gaius McCarthy was born outside of time. The son of a time-traveling Recorder from 2354 AD and a gladiator living in Rome in 95 AD, Far's birth defies the laws of nature. Exploring history himself is all he's ever wanted, and after failing his final time-traveling exam, Far takes a position commanding a ship with a crew of his friends as part of a black market operation to steal valuables from the past.

But during a heist on the sinking Titanic, Far meets a mysterious girl who always seems to be one step ahead of him. Armed with knowledge that will bring Far's very existence into question, she will lead Far and his team on a race through time to discover a frightening truth: History is not as steady as it seems.
The book I was expecting: Red Rising with Time Travel.
The book I did get: Doctor Who with spaceships.
There was not enough action. There was not enough time travel. In fact, I think that every historical fiction ever, had much more time travel than Invictus. I mean there was a lot of logic and theory behind this book (lots of loooong and booooring theory btw), so that was fine, but the character just didn't click with me, nor did I much care about them all. Okay, okay, I will admit I smiled at the end and all, but this wasn't enough to love the book. I am sure there are people for which this book is perfect, just I am not one of them.
Warcross
by Marie Lu

Find the book on goodreads or amazon
Rating: ✯✯✯✯✯
For the millions who log in every day, Warcross isn't just a game—it's a way of life. The obsession started ten years ago and its fan base now spans the globe, some eager to escape from reality and others hoping to make a profit. Struggling to make ends meet, teenage hacker Emika Chen works as a bounty hunter, tracking down players who bet on the game illegally. But the bounty hunting world is a competitive one, and survival has not been easy. Needing to make some quick cash, Emika takes a risk and hacks into the opening game of the international Warcross Championships—only to accidentally glitch herself into the action and become an overnight sensation.

Convinced she's going to be arrested, Emika is shocked when instead she gets a call from the game's creator, the elusive young billionaire Hideo Tanaka, with an irresistible offer. He needs a spy on the inside of this year's tournament in order to uncover a security problem . . . and he wants Emika for the job. With no time to lose, Emika's whisked off to Tokyo and thrust into a world of fame and fortune that she's only dreamed of. But soon her investigation uncovers a sinister plot, with major consequences for the entire Warcross empire.
Akjskjdfioahsdoifh, yes, that one is awesome. Wait, I made a list, let me get it for you:
Reasons, why Warcross is awesome:
Hackers
Denouncing Inequality
Diversity (LIKE REAL DIVERSITY, WITH ALL OF IT, EVEN DISABILITIES AND IN THE MOST AWESOME WAY EVER!)
The glasses. I want the fucking glasses. Like now.
No real time frame, no one knows when Warcross is happening. Like Warcross could happen tomorrow, guys!
Tokyo
Awesome female protagonist. She is not "omg, now I need to get the guys and do whatever I am told to do.", nah, not Emika. Emika is all "GIVE ME THE FUCKING HUNT AND I WILL DELIVER". This is not only badass, this is confidence.
There is a bond. Now you all thought you had enough of those, don't you, but let me tell you, you have not, the implications for the 2nd volume are endless. Also, how freaking awesome and smart to come up with a technical bond??? Forget the mate shit, everyone can get bonded (okay, this as a little drastic, we still love Feysand, they are the most beautiful mate cupcakes ever).
And the plottwist (I knoooow, I knew something was on the way, but this? Nah)
The Emperor of Evening Stars
by Laura Thalassa

Find the book on goodreads or amazon
Rating: ✯✯✯✯
In the beginning, there was darkness.

Before he met Callie, before he became the Bargainer, there was Desmond Flynn, the bastard son of a scribe. A boy born to a weak mother, cursed with little magic, and destined to marry a slave.

But fate had something else in mind.

Till darkness dies. 

From the barren caves of Arestys to the palace of Somnia to the streets of earth, this is how Desmond Flynn, a fairy who began with nothing, became the Emperor of Evening Stars.
 If you ever have ACOMAF withdrawal symptoms and you need a little bit Rhysand in your life, start the Bargainer Series. It is individual and creative enough to be its own thing and it has this hot guy in it, which is a great replacement for a while. Naturally you could just go and reread ACOMAF again, but that's taking long, and you would have that unpleasant encounter with Tamlin. So yeah, The Bargainer Series is a very sweet and cute thing. I didn't like the 2nd volume very much, because that's where it lost its individuals for a while, but the novella was fun. I am crossing my fingers that the third volume will be fun again.
Wolkenschloss
by Kerstin Gier

Find the book on goodreads or amazon
Rating: ✯✯✯✯
Fanny Funke, a 17 year old, who decided that college was not really an option for her future, decides to search for other ways to find something meaningful to do. She finds herself an internship in the time honored Grandhotel "Cloudcastle" in Switzerland. There, they celebrate the New Year with a shining ball, but things are off this year. Not only seem the guests to hide something, but the staff may lose their jobs in the coming year. Fanny soon gets involved in a thrilling adventure, that was not part of her job description.
If you ever wonder why I copy synopsizes, here is the reason. The Book is not translated into English (and it probably never will), so I thought I would add a breath summary. Now, if the book ever gets translated, and you like German culture, this would be the book for you. It has so much germaness in it, I wanted to hide behind a table at times. If I ever would move to a foreign country and I would get homesick I would read this book. It would remind me of evenings, where my mom watched these awful German soap operas on the ARD channel. As I am a German, I can handle this, I know our habits and stereotypes, for me that's home. For all others, it's probably very full of facepalm moments and cringe worthy situations.
Nonetheless, I love Kerstin Gier. Her humor is always contagious. Her characters always captivate. You get jealous of the main character because you want to have friends like her. It's not as good as the silver trilogy but it's a proper and neat book to read before Christmas.
 Moxie
by Jennifer Mathieu

Find the book on goodreads or amazon
Rating: ✯✯✯✯
Moxie girls fight back!

Vivian Carter is fed up. Fed up with her small-town Texas high school that thinks the football team can do no wrong. Fed up with sexist dress codes and hallway harassment. But most of all, Viv Carter is fed up with always following the rules.

Viv's mom was a punk rock Riot Grrrl in the '90s, so now Viv takes a page from her mother's past and creates a feminist zine that she distributes anonymously to her classmates. She's just blowing off steam, but other girls respond. Pretty soon Viv is forging friendships with other young women across the divides of cliques and popularity rankings, and she realizes that what she has started is nothing short of a girl revolution.
Moxie girls fight back! This is going to be my new battle cry.
I knew I would like this book when I read the dedication:
"For all the teenage women fighting the good fight. And for my twelve grade Current Topics teacher for calling me a feminazi in front of the entire class. You insulted me, but you also sparked my interest in feminism, so really, the joke is on you. Revenge is best served cold, you jerk."
After I finished the book, I wanted to start a revolution. A week after, I feel much more settled. I think that the aftereffects are not long lasting, which is sad. It is a good book, but if I compare it to the Handmaid's Tale, it doesn't leave a deep impression. Moxie is cute and a great book for girls who are just getting in touch with feminism. For everyone else it seems more like a trend. It picks up the 90's by retelling the adventurous of Viv's Mom. But that's not where the big fight happened. That was part of the 20's and 70's but that's not 'in' at the moment. Read the book, while the 90's are in and enjoy.
An Enchantment of Ravens
by Margaret Rogerson

Find the book on goodreads or amazon
Rating: ✯✯
Isobel is a prodigy portrait artist with a dangerous set of clients: the sinister fair folk, immortal creatures who cannot bake bread, weave cloth, or put a pen to paper without crumbling to dust. They crave human Craft with a terrible thirst, and Isobel's paintings are highly prized among them. But when she receives her first royal patron—Rook, the autumn prince—she makes a terrible mistake. She paints mortal sorrow in his eyes – a weakness that could cost him his life.

Furious and devastated, Rook spirits her away to the autumnlands to stand trial for her crime. Waylaid by the Wild Hunt's ghostly hounds, the tainted influence of the Alder King, and hideous monsters risen from barrow mounds, Isobel and Rook depend on one another for survival. Their alliance blossoms into trust, then love, violating the fair folks' ruthless Good Law. There's only one way to save both their lives, Isobel must drink from the Green Well, whose water will transform her into a fair one—at the cost of her Craft, for immortality is as stagnant as it is timeless.

Isobel has a choice: she can sacrifice her art for a future, or arm herself with paint and canvas against the ancient power of the fairy courts. Because secretly, her Craft represents a threat the fair folk have never faced in all the millennia of their unchanging lives: for the first time, her portraits have the power to make them feel.
Why? Honestly, why? No one needed this book. Still, I see it plastered on bookstagram. Have you seen all the books that came out this and the previous month? Why are you going crazy about 'An Enchantment of Ravens'? It's bad. BAAAAD! The only reason I finished it, was because I didn't want to spend money for another audiobook. The story is so boring, we have read about it a dozen times already. It's basically a mixture between Wintersong and ACOTAR. Nothing more. The Craft? The stupid Craft? Wintersong. Glamour? Wintersong. Courts? Acotar. Evil fairies that look ugly? Wintersong. Hot as fuck fairy to fall in love with? Acotar. So, no, no one needed this book! Reread ACOTAR, or read Wintersong for the Prose. Don't waste your time with this book.