Hello, most depressing month of the year. No light, no warmth, no growth and nothing to make it better.  Thank god I like books, and at least can read.
Fallen Heir
by Erin Watt
Find the book on goodreads or amazon
Part of a Series: The Royals #4
Genre: Romance, New Adult
These Royals will ruin you.

Easton Royal has it all: looks, money, intelligence. His goal in life is to have as much fun as possible. He never thinks about the consequences because he doesn't have to.

Until Hartley Wright appears, shaking up his easy life. She's the one girl who's said no, despite being attracted to him. Easton can't figure her out and that makes her all the more irresistible.

Hartley doesn't want him. She says he needs to grow up.

She might be right.

Rivals. Rules. Regrets. For the first time in Easton's life, wearing a Royal crown isn't enough. He's about to learn that the higher you start, the harder you fall.
This Mortal Coil
by Emily Suvada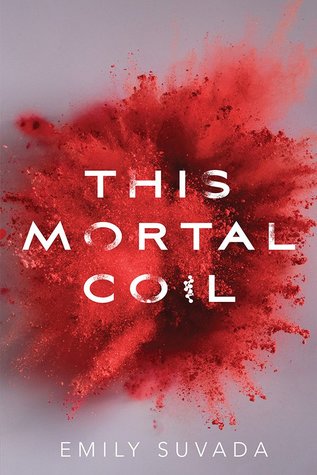 Find the book on goodreads or amazon
Part of a Series: This Mortal Coil #1

Genre: Sci-Fi, Dystopian, YA

Catarina Agatta is a hacker. She can cripple mainframes and crash through firewalls, but that's not what makes her special. In Cat's world, people are implanted with technology to recode their DNA, allowing them to change their bodies in any way they want. And Cat happens to be a gene-hacking genius.

That's no surprise, since Cat's father is Dr. Lachlan Agatta, a legendary geneticist who may be the last hope for defeating a plague that has brought humanity to the brink of extinction. But during the outbreak, Lachlan was kidnapped by a shadowy organization called Cartaxus, leaving Cat to survive the last two years on her own.

When a Cartaxus soldier, Cole, arrives with news that her father has been killed, Cat's instincts tell her it's just another Cartaxus lie. But Cole also brings a message: before Lachlan died, he managed to create a vaccine, and Cole needs Cat's help to release it and save the human race.

Now Cat must decide who she can trust: The soldier with secrets of his own? The father who made her promise to hide from Cartaxus at all costs? In a world where nature itself can be rewritten, how much can she even trust herself?
The Name of the Wind
by Patrick Rothfuss
Find the book on goodreads or amazon
Part of a Series: Kingkiller Chronicle #1

Genre: Fantasy

Told in Kvothe's own voice, this is the tale of the magically gifted young man who grows to be the most notorious wizard his world has ever seen.

The intimate narrative of his childhood in a troupe of traveling players, his years spent as a near-feral orphan in a crime-ridden city, his daringly brazen yet successful bid to enter a legendary school of magic, and his life as a fugitive after the murder of a king form a gripping coming-of-age story unrivaled in recent literature.

A high-action story written with a poet's hand, The Name of the Wind is a masterpiece that will transport readers into the body and mind of a wizard.
Cress
by Marissa Meyer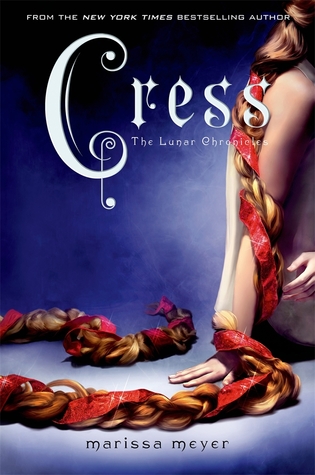 Find the book on goodreads or amazon
Part of a Series: Lunar Chronicles #3

Genre: YA, Sci-Fi

In this third book in the Lunar Chronicles, Cinder and Captain Thorne are fugitives on the run, now with Scarlet and Wolf in tow. Together, they're plotting to overthrow Queen Levana and her army.

Their best hope lies with Cress, a girl imprisoned on a satellite since childhood who's only ever had her netscreens as company. All that screen time has made Cress an excellent hacker. Unfortunately, she's just received orders from Levana to track down Cinder and her handsome accomplice.

When a daring rescue of Cress goes awry, the group is separated. Cress finally has her freedom, but it comes at a higher price. Meanwhile, Queen Levana will let nothing prevent her marriage to Emperor Kai. Cress, Scarlet, and Cinder may not have signed up to save the world, but they may be the only hope the world has.
The Glass Spare
by Lauren DeStefano
Find the book on goodreads or amazon
Part of a Series: The Glass Spare #1

Genre: Fantasy, YA

A banished princess.
A deadly curse.
A kingdom at war.

Wil Heidle, the only daughter of the king of the world's wealthiest nation, has grown up in the shadows. Kept hidden from the world in order to serve as a spy for her father—whose obsession with building his empire is causing a war—Wil wants nothing more than to explore the world beyond her kingdom, if only her father would give her the chance.

Until one night Wil is attacked, and she discovers a dangerous secret. Her touch turns people into gemstone. At first Wil is horrified—but as she tests its limits, she's drawn more and more to the strange and volatile ability. When it leads to tragedy, Wil is forced to face the destructive power within her and finally leave her home to seek the truth and a cure.

But finding the key to her redemption puts her in the path of a cursed prince who has his own ideas for what to do with her power.

With a world on the brink of war and a power of ultimate destruction, can Wil find a way to help the kingdom that's turned its back on her, or will she betray her past and her family forever?
Daughter of Smoke and Bone
by Laini Taylor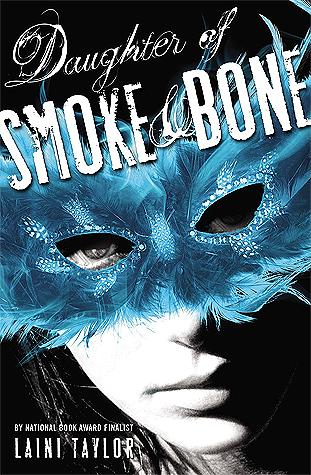 Find the book on goodreads or amazon
Part of a Series: Daughter of Smoke and Bone #1

Genre: Paranormal Fantasy, YA

Around the world, black hand prints are appearing on doorways, scorched there by winged strangers who have crept through a slit in the sky.

In a dark and dusty shop, a devil's supply of human teeth grows dangerously low.

And in the tangled lanes of Prague, a young art student is about to be caught up in a brutal otherworldly war.

Meet Karou. She fills her sketchbooks with monsters that may or may not be real, she's prone to disappearing on mysterious "errands", she speaks many languages – not all of them human – and her bright blue hair actually grows out of her head that color. Who is she? That is the question that haunts her, and she's about to find out.

When beautiful, haunted Akiva fixes fiery eyes on her in an alley in Marrakesh, the result is blood and starlight, secrets unveiled, and a star-crossed love whose roots drink deep of a violent past. But will Karou live to regret learning the truth about herself?
All The Crooked Saints
by Maggie Stiefvater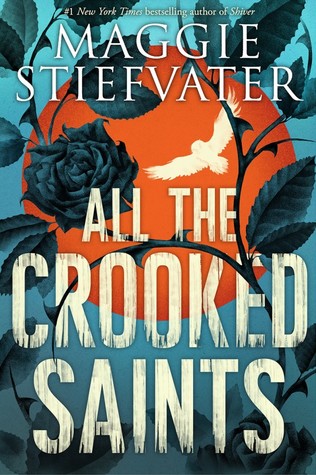 Find the book on goodreads or amazon
Part of a Series: Standalone

Genre: Magical Realism, Paranomal Fantasy, YA

Here is a thing everyone wants: a miracle.
Here is a thing everyone fears: what it takes to get one.

Any visitor to Bicho Raro, Colorado is likely to find a landscape of dark saints, forbidden love, scientific dreams, miracle-mad owls, estranged affections, one or two orphans, and a sky full of watchful desert stars.

At the heart of this place you will find the Soria family, who all have the ability to perform unusual miracles. And at the heart of this family are three cousins longing to change its future: Beatriz, the girl without feelings, who wants only to be free to examine her thoughts; Daniel, the Saint of Bicho Raro, who performs miracles for everyone but himself; and Joaquin, who spends his nights running a renegade radio station under the name Diablo Diablo.

They are all looking for a miracle. But the miracles of Bicho Raro are never quite what you expect.
The Bear and the Nightingale
by Katherine Arden
Find the book on goodreads or amazon
Part of a Series: Winternight #1

Genre: Fantasy, YA, Fairytale Retelling

At the edge of the Russian wilderness, winter lasts most of the year and the snowdrifts grow taller than houses. But Vasilisa doesn't mind—she spends the winter nights huddled around the embers of a fire with her beloved siblings, listening to her nurse's fairy tales. Above all, she loves the chilling story of Frost, the blue-eyed winter demon, who appears in the frigid night to claim unwary souls. Wise Russians fear him, her nurse says, and honor the spirits of house and yard and forest that protect their homes from evil.

After Vasilisa's mother dies, her father goes to Moscow and brings home a new wife. Fiercely devout, city-bred, Vasilisa's new stepmother forbids her family from honoring the household spirits. The family acquiesces, but Vasilisa is frightened, sensing that more hinges upon their rituals than anyone knows.

And indeed, crops begin to fail, evil creatures of the forest creep nearer, and misfortune stalks the village. All the while, Vasilisa's stepmother grows ever harsher in her determination to groom her rebellious stepdaughter for either marriage or confinement in a convent.

As danger circles, Vasilisa must defy even the people she loves and call on dangerous gifts she has long concealed—this, in order to protect her family from a threat that seems to have stepped from her nurse's most frightening tales.
Optional:
Everybody Lies
by Seth Stephens-Davidowitz
Find the book on goodreads or amazon
Genre: Non-fiction, Sociology

Semi-Finalist in the Science & Technology category in the Choice Awards.

Foreword by Steven Pinker, author of The Better Angels of our Nature

Blending the informed analysis of The Signal and the Noise with the instructive iconoclasm of Think Like a Freak, a fascinating, illuminating, and witty look at what the vast amounts of information now instantly available to us reveals about ourselves and our world—provided we ask the right questions.

By the end of an average day in the early twenty-first century, human beings searching the internet will amass eight trillion gigabytes of data. This staggering amount of information—unprecedented in history—can tell us a great deal about who we are—the fears, desires, and behaviors that drive us, and the conscious and unconscious decisions we make. From the profound to the mundane, we can gain astonishing knowledge about the human psyche that less than twenty years ago, seemed unfathomable.

Everybody Lies offers fascinating, surprising, and sometimes laugh-out-loud insights into everything from economics to ethics to sports to race to sex, gender and more, all drawn from the world of big data. What percentage of white voters didn't vote for Barack Obama because he's black? Does where you go to school affect how successful you are in life? Do parents secretly favor boy children over girls? Do violent films affect the crime rate? Can you beat the stock market? How regularly do we lie about our sex lives and who's more self-conscious about sex, men or women?

Investigating these questions and a host of others, Seth Stephens-Davidowitz offers revelations that can help us understand ourselves and our lives better. Drawing on studies and experiments on how we really live and think, he demonstrates in fascinating and often funny ways the extent to which all the world is indeed a lab. With conclusions ranging from strange-but-true to thought-provoking to disturbing, he explores the power of this digital truth serum and its deeper potential—revealing biases deeply embedded within us, information we can use to change our culture, and the questions we're afraid to ask that might be essential to our health—both emotional and physical. All of us are touched by big data everyday, and its influence is multiplying. Everybody Lies challenges us to think differently about how we see it and the world.
Renegades
by Marissa Meyer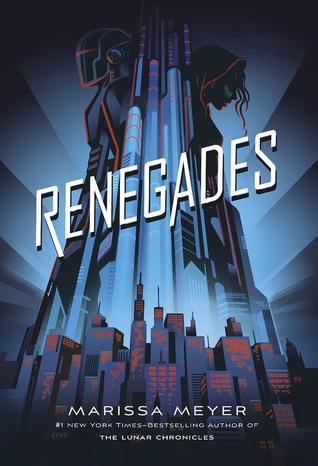 Find the book on goodreads or amazon
Part of a Series: Renegades #1

Genre: YA, Sci-Fi

Secret Identities. Extraordinary Powers. She wants vengeance. He wants justice.

The Renegades are a syndicate of prodigies—humans with extraordinary abilities—who emerged from the ruins of a crumbled society and established peace and order where chaos reigned. As champions of justice, they remain a symbol of hope and courage to everyone…except the villains they once overthrew.

Nova has a reason to hate the Renegades, and she is on a mission for vengeance. As she gets closer to her target, she meets Adrian, a Renegade boy who believes in justice—and in Nova. But Nova's allegiance is to a villain who has the power to end them both.
The Prey of Gods
by Nicki Drayden
Find the book on goodreads or amazon
Part of a Series: Standalone

Genre: Sci-Fi, Fantasy

In South Africa, the future looks promising. Personal robots are making life easier for the working class. The government is harnessing renewable energy to provide infrastructure for the poor. And in the bustling coastal town of Port Elizabeth, the economy is booming thanks to the genetic engineering industry which has found a welcome home there. Yes—the days to come are looking very good for South Africans. That is, if they can survive the present challenges:

A new hallucinogenic drug sweeping the country . . .
An emerging AI uprising . . .
And an ancient demigoddess hellbent on regaining her former status by preying on the blood and sweat (but mostly blood) of every human she encounters.

It's up to a young Zulu girl powerful enough to destroy her entire township, a queer teen plagued with the ability to control minds, a pop diva with serious daddy issues, and a politician with even more serious mommy issues to band together to ensure there's a future left to worry about.
As always this is more a guideline than a 'set in stone' TBR. I started to watch a lot of Pat Rothfuss youtube videos last week, and he is so much fun, I just HAD to reread The Name of the Wind.
The Bear and the Nightingale will be my first Buddy Read with my friend GV. It's going to be my Christmas book, and I feel it will be well fitting for that purpose. Long, dark, snowy Russian nights. I think that's coming close. If anyone wants to join in, leave me a note. We are going to read it over four weeks and will do a set time schedule (I believe that was the plan). We are going to start in the last week of November.
Also, yes, there is a wild Non-fiction book, what happened. Actually, I challenged myself to read 3 Non-fiction books this year, and failed miserably, but this book not only managed to grab my attention through a newspaper article, but then I also discovered 'Talks at Google' where the author introduced the book. The research method that the author uses, is just so brilliant I must read this book. It's so exciting.
Till the Wrap Up, Guys